DesignCrew Inc. is a strategic graphic communications firm.
GRAPHIC DESIGN
We do it all from catalogs, brochures, hand-made books, historical books, newsletters, direct mail campaigns, fundraising mailers, spec sheets, price lists, posters and more.
CORPORATE IDENTITY
We help present your company's key characteristics and consumer benefits to the public through thoughtfully branded logos, logotypes, business cards, stationery and signage.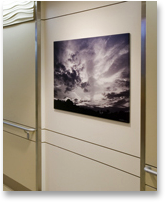 ENVIRONMENTAL DISPLAY
From hospital waiting rooms to trade show booths to grocery store vestibules, we help companies show off their goods and services and make their guests feel comfortable.
PRINT ADVERTISING
We hone in on the features and benefits of your product or service and present them to your target audience in simple, informative and memorable ways designed to grow your business.
Our design solutions can aid in selling your product or service through effective visual communications such as: print advertising, sales literature, catalogs, direct mail, signage/display, corporate identity and environmental graphics. We deliver effective, hard-working solutions and we understand the importance of providing great client service on target and on budget. • The cornerstone of our strategic process is the
Creative Brief
, a document we develop in conjunction with our clients to focus our efforts. The Creative Brief is our reference point every step of the way and all of our creative work is evaluated against it. Use the attached PDF guide to describe your next project, then send us the Word document and we'll get started on a creative solution that will help grow your company.